(1st Edition Published June 2022)
Double-digit growth expected for lactoferrin, enhanced by immunity boosting products trend and non-food sectors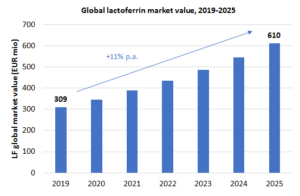 Lactoferrin (LF) and Lactoperoxidase (LP), two bio-components of milk, are currently generating much interest in the dairy world. The global lactoferrin market has doubled in the last decade, and double-digit growth is expected for the coming years. The global lactoperoxidase market is expected to reach 349 tons in 2022. Will LF/LP production be measured in kt soon?
Why such interest in lactoferrin and lactoperoxidase? Apart from its main function of binding and transporting iron, lactoferrin also has anti-bacterial, anti-viral, anti-parasitic and anti-cancer properties, an immunomodulatory effect and an impact on bone regeneration and wound healing. Lactoperoxidase acts as a natural anti-bacterial agent and demonstrates potential applications in controlling bacteria in food and consumer health care products.
Today, the main applications of lactoferrin are in infant formula products to strengthen new-born immunity systems. Given the numerous functionalities of lactoferrin and lactoperoxidase, new potential applications are growing fast in the adult nutrition sector, influenced by the increasing demand for immunity boosting products, and in personal care applications, including skin and dental care.
Gira's report paints a complete and comprehensive picture of this fast-moving market!
For full details, click on the proposal title or the download button. If you require further information, you may contact Christophe Lafougère at clafougere@girafood.com, Guy Kientz at gkientz@girafood.com or Mylène Potier at mpotier@girafood.com.